IS TONYA HARDING THE GOOD GUY OR THE BAD GUY? INTERNET WEIGHS IN. #TonyHarding #ITonya #ABC #20/20 #NancyKerrigan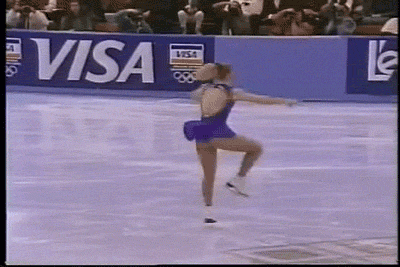 >
The movie based on Tonya Harding's story
is winning awards.
*Note for my kids... in the 1990s a rival skater named Nancy got whacked in the knee by some dudes so that she'd not be able to compete, which would improve Tonya Harding's chances at the Olympics... Tonya denies having a part in it.
Yes, Horsman kids, it sounds like a Hallmark Channel Movie Mystery but it
REALLY HAPPENED
.
>She had a
big-ol' interview on ABC
yesterday.
"Tonya Harding says she 'knew something was up' before infamous 1994 baton attack on Nancy Kerrigan... Tonya Harding admits she still cares what people think about her 23 years after Nancy Kerrigan attack... Harding denied having any involvement in the attack but pleaded guilty to conspiring to hinder prosecution. She had to pay a $160,000 fine and was sentenced to three years' probation and 500 hours community service... In addition, she was banned for life from the U.S. Figure Skating Association... When asked if she had ever apologized to Kerrigan, Harding said she had multiple times. 'Enough apologizing,' she said. Kerrigan declined ABC News' request for an interview for this two-hour special..."
>How true is the I, Tonya version of what went down? Well... Some
truth, some fiction, and some (probably) mis-remembering
.
The movie is not exactly based-on-a-true-story... it opens with this: 'Based on irony free, wildly contradictory, totally true interviews with Tonya Harding and Jeff Gillooly... (the stuff about Tonya's mom? Tonya says that mom hit her, mom says she did not do that. The producers never talked to mom before making the movie)... one truth for sure is that Tonya Harding's triple axel was as big of a deal as in the I, Tonya movie. Her successful execution of a triple axel on February 16, 1991 at the United States National Figure Skating Championships in Minneapolis, Minnesota made her the first American female figure skater to pull it off in a competition."
>The internet is weighing in on whether she's a hero or a villain. Usually somewhere in the middle is the truth *PG13...
#TonyaHarding Tweets